Korcula, Croatia Travel Guide by Ruth Nuss
Oznake:
korcula
,
dreamers club lumbarda
,
family holidays
,
travelling
Here is the Korcula Travel Guide, thoughtfully composed by our dear guest Ruth, during her delightful stay with her lovely family, in our apartment, Boho, at the Dreamers Club in May 2023.
Today I'm sharing our Korčula, Croatia travel guide. I'll share a little bit about the island, all of the details about where we stayed, and what we recommend doing there.
We spent four days on the Croatian island of Korčula with our daughters last month and fell in LOVE. It was one of our favorite stops of the stay.
I wasn't expecting Korčula to be situated so close to the mainland and the other islands. The views were spectacular. Picture peaceful beaches nestled in rocky coves with the most crystal clear waters and a backdrop of mountains and trees on the horizon of the Adriatic Sea. It was stunning and unlike anywhere I've been.
The island is full of rolling vineyards and beautiful coves, but one of our favorite parts of the island was the Old Town area. Korčula's medieval old town area, surrounded partially by fortress walls, is fondly referred to as a "little Dubrovnik." We loved this area and made it over a handful of times to explore and enjoy the sunset.
In our opinion, Korčula has it all. The old town area provides a rich cultural experience while the rest of the island serves up staggering views and picture-perfect beaches. It's a "must see" on any Croatia itinerary.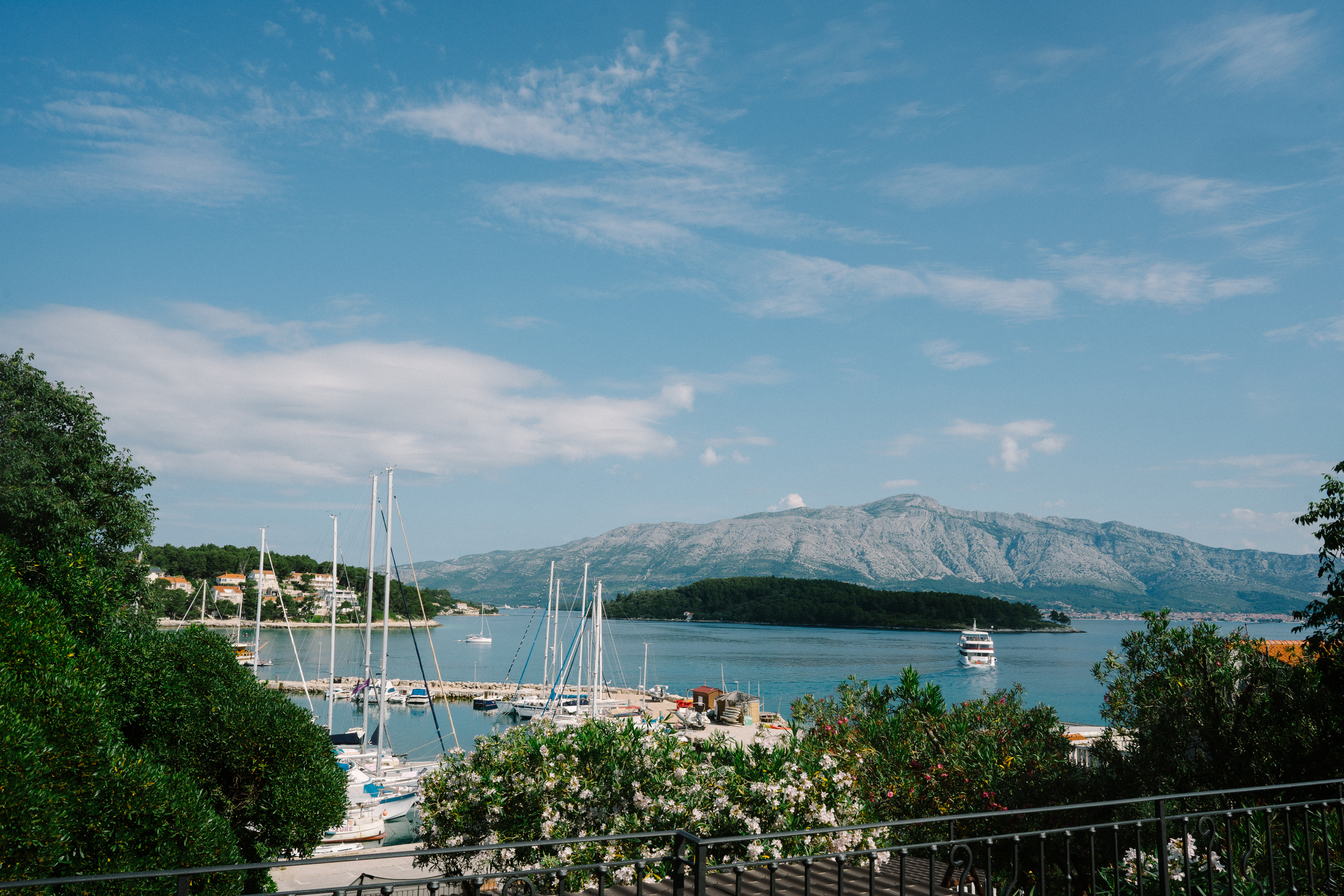 Korčula Vs. Hvar
When we planned this trip, we knew we wanted to go to Croatia, but we went back and forth quite a bit on where to spend our time. After chatting with a handful of people who were either from Croatia or still had family there, we decided that we couldn't miss the islands off the Dalmatian Coast. And given the fact that we would be starting our trip off in Paris, we knew we'd want to have several days to just CHILL.
Ultimately, we decided on 4 nights in Korčula and 2 nights in Plitvice on the mainland. (I'll do a post about this next week). We chose to save the bigger, more busy areas (Split, Dubrovnik) as well as the Istria region for our next trip–we will definitely be back!
Islands in Korčula
In terms of which island, we chose Korčula because it seemed much more laid back and "off the beaten path" than the other easy-to-get-to island, Hvar. And as soon as we arrived, we knew we made the right call.
We met several other travelers while we were there–Korčula had that relaxed, friendly vibe where everyone would stop and chat (the BEST)–and the resounding conclusion from those who had been island hopping was that Korčula was much more chill than Hvar. A few people compared Hvar to Mykonos in that it is very hectic with a lively nightlife, something I would have loved as a 23-year-old but not as much with my two tiny girls in tow.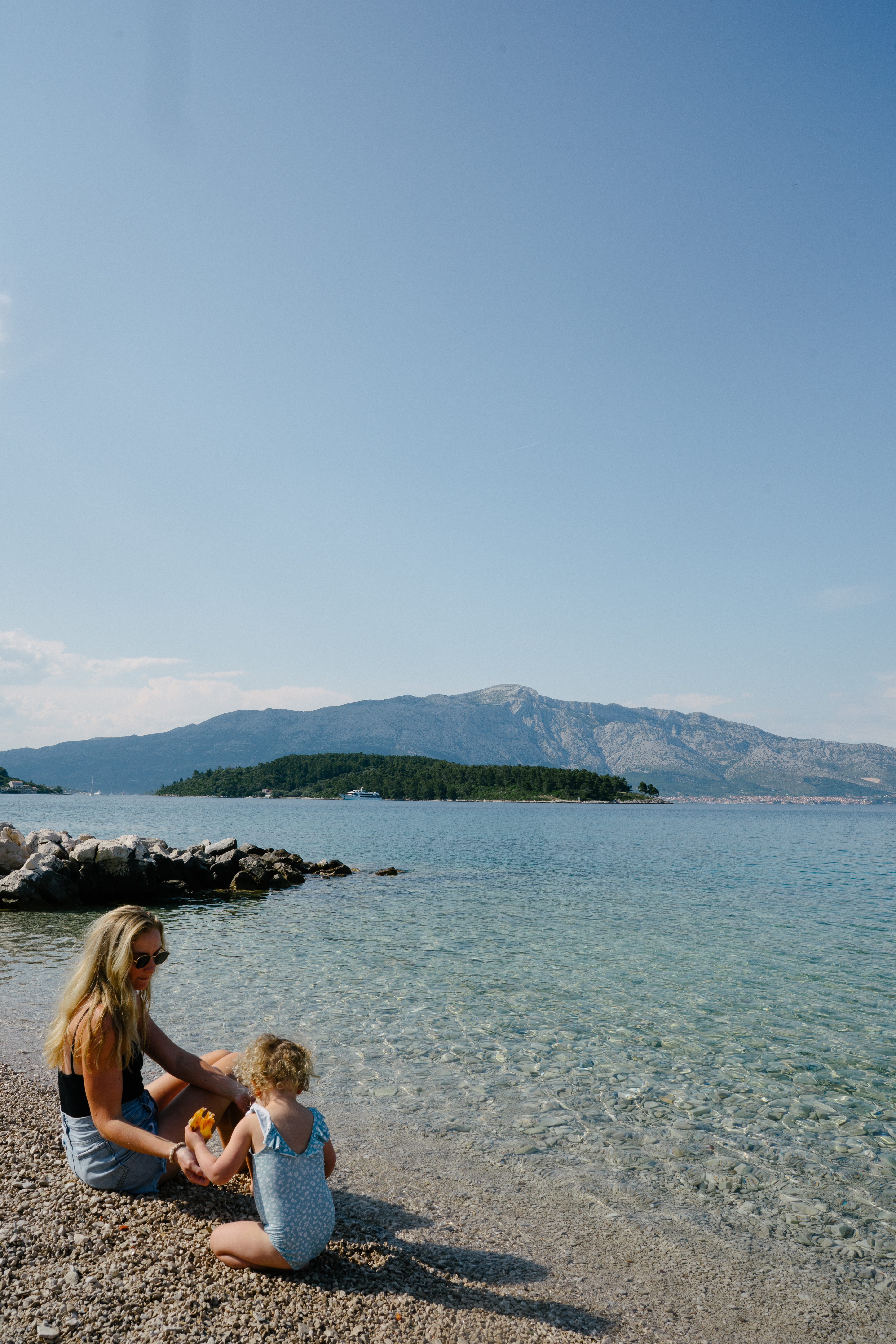 Is Korcula Kid Friendly?
We found the island to be extremely kid friendly. We felt welcome everywhere, and the vibe of the island was low stress and perfect for kids. The only thing I'd say is that the old town area is not stroller friendly, so I would plan to bring a carrier for smaller kids if you're planning to spend a substantial amount of time walking around.
There weren't a ton of parks on the island, but there were a couple of small ones that worked for us. However, we didn't really need the parks as much as we needed them in Paris because the girls were able to burn off plenty of energy at the beach each day! The beaches are fabulous for kids. Our girls could have tossed rocks into the water for every waking hour we were there.
I would DEFINITELY recommend Korčula if you're traveling with kids. We had such a great experience and would go back in a heartbeat.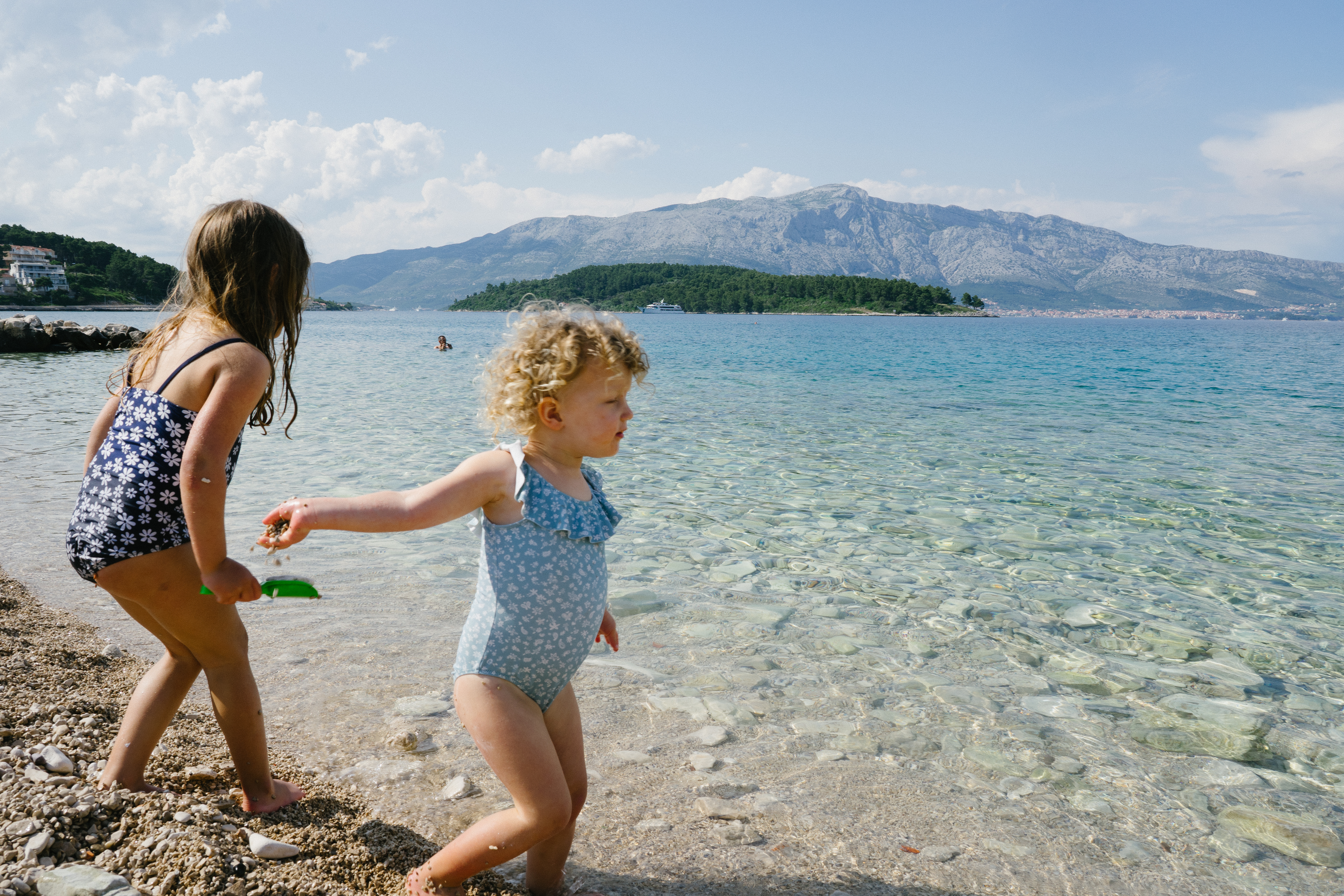 How To Get Around Korčula
We rented a car when we flew into Split and brought it with us to Korčula (we rode over on the car ferry from Orebić). You don't need one, but it's helpful if you want to visit multiple beaches like we did. You'll also need one if you stay in Lumbarda because it's a little drive away from the Old Town area.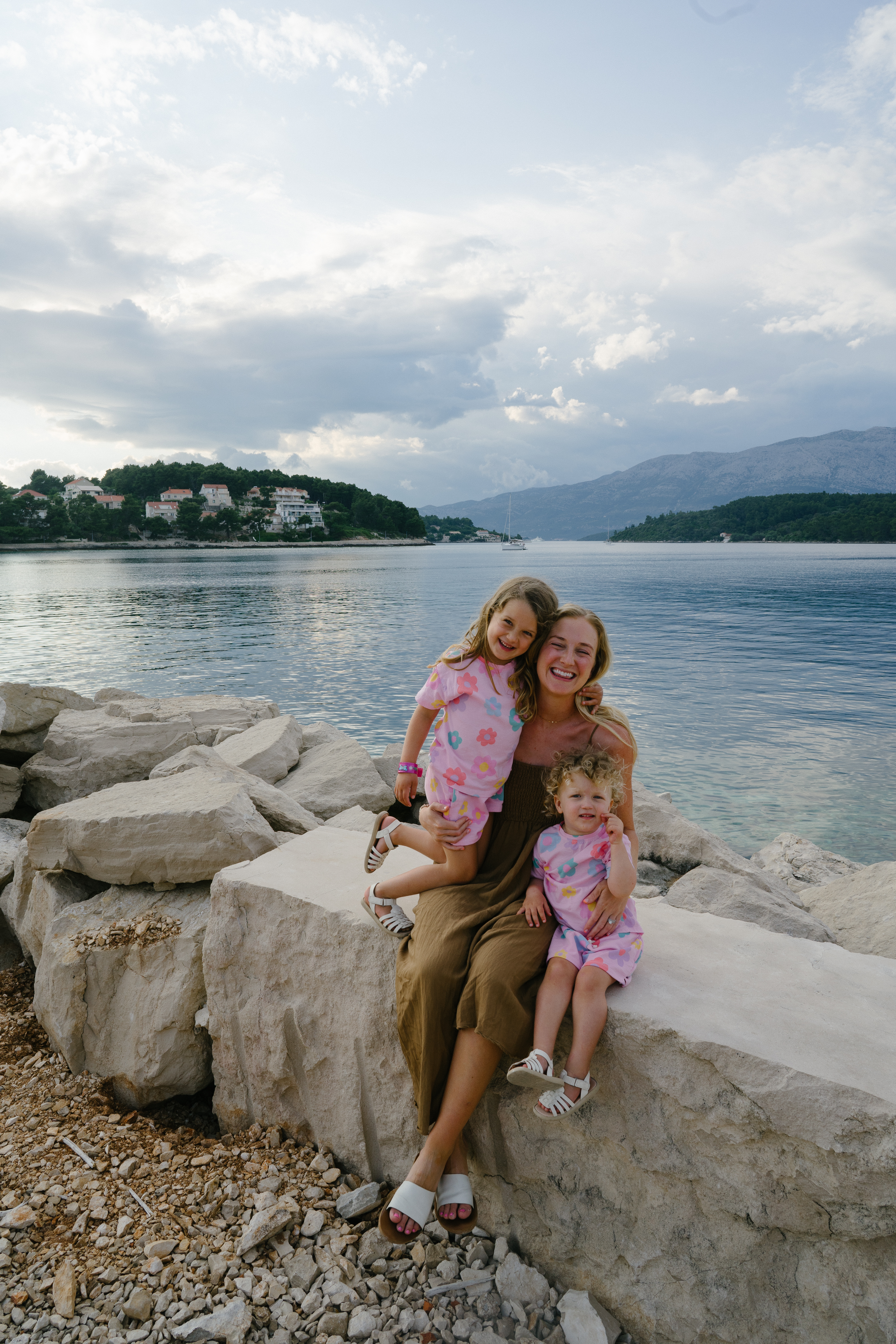 When To Visit Korčula, Croatia
It seems like summer is the time to be on the islands. We arrived on Korčula on June 1st, and everything had just fully opened up for the summer season. I think we beat the summer crowds by a week or two, so the island was still fairly quiet. We shared the beaches with just a handful of other travelers and didn't have any issues getting tables at restaurants. The weather was perfect–sunny and in the 70's pretty much all day long with the temps dropping slightly in the evenings. The water was still a little chilly, but I was able to swim which I think says a lot (I can barely dip my pinky toe into the Pacific). And the girls were SO happy wading in and out.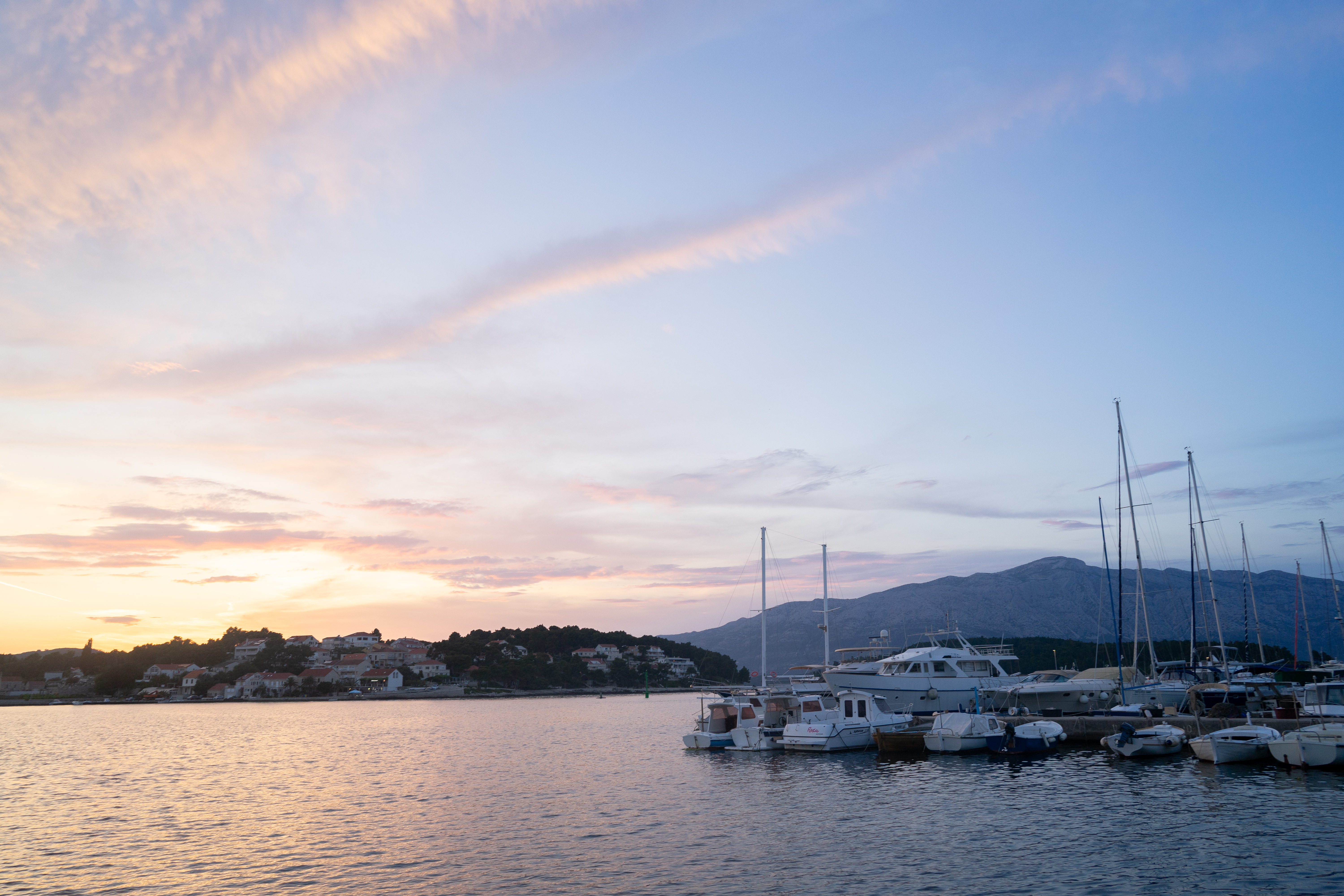 Where To Stay In Korčula, Croatia: The Dreamers' Club
We stayed in the town of Lumbarda which is a 10 minute drive from the Old Town area. If you are looking for a lively stay with lots of things to walk to, I recommend staying in Old Town. However, if you are wanting more of a vacation, then Lumbarda is your answer.
Lumbarda is very chill, if not sleepy, but there are a handful of good restaurants, perfect beaches, and, of course, the beautiful apartment hotel we stayed at.
We stayed at The Dreamers' Club in Lumbarda and had an amazing experience.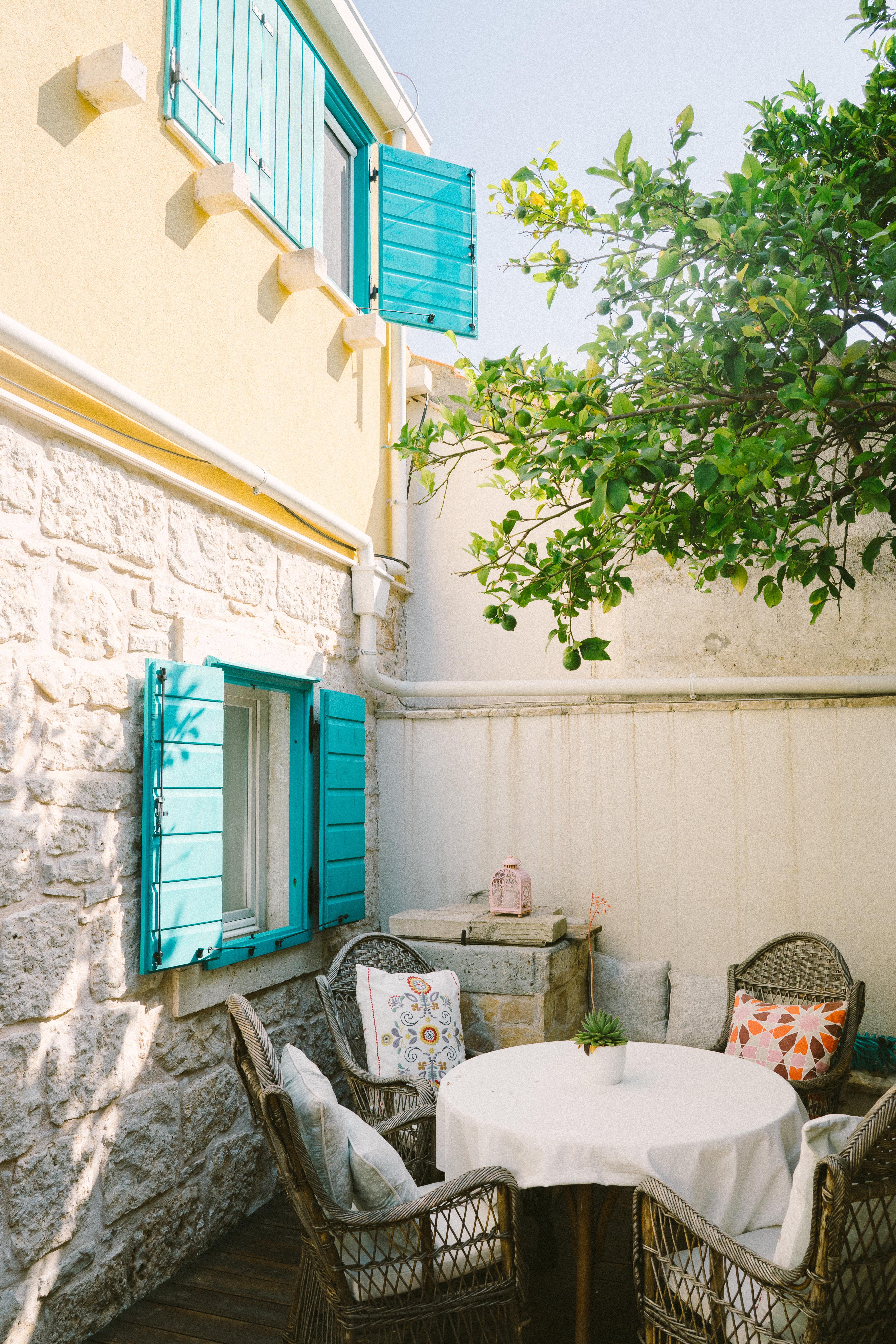 We stayed in the "Boho" apartment which was a great size for us. The apartment had a studio layout with a king bed, sofa, and kitchenette in the main space and then an additional small room with a queen bed and sliding door divider for the girls to sleep in.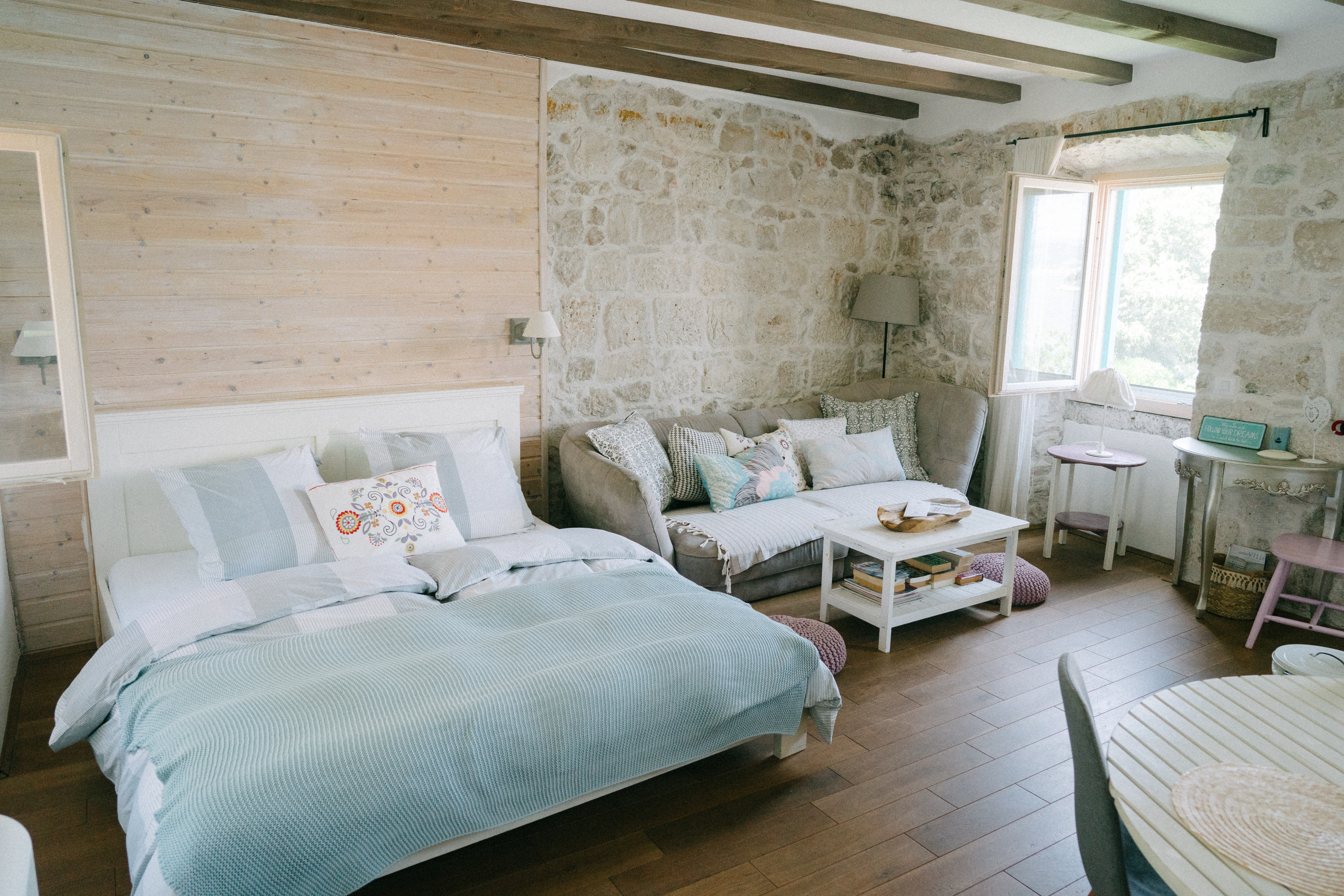 The multi-course breakfast–sourced locally and made with the freshest ingredients–was one of our favorite things about the hotel. Every morning, we'd bring the girls' coloring stuff down to a cabana and enjoy our fresh fruit, unique egg dishes, and GORGEOUS pastries. If you stay here, breakfast is a must.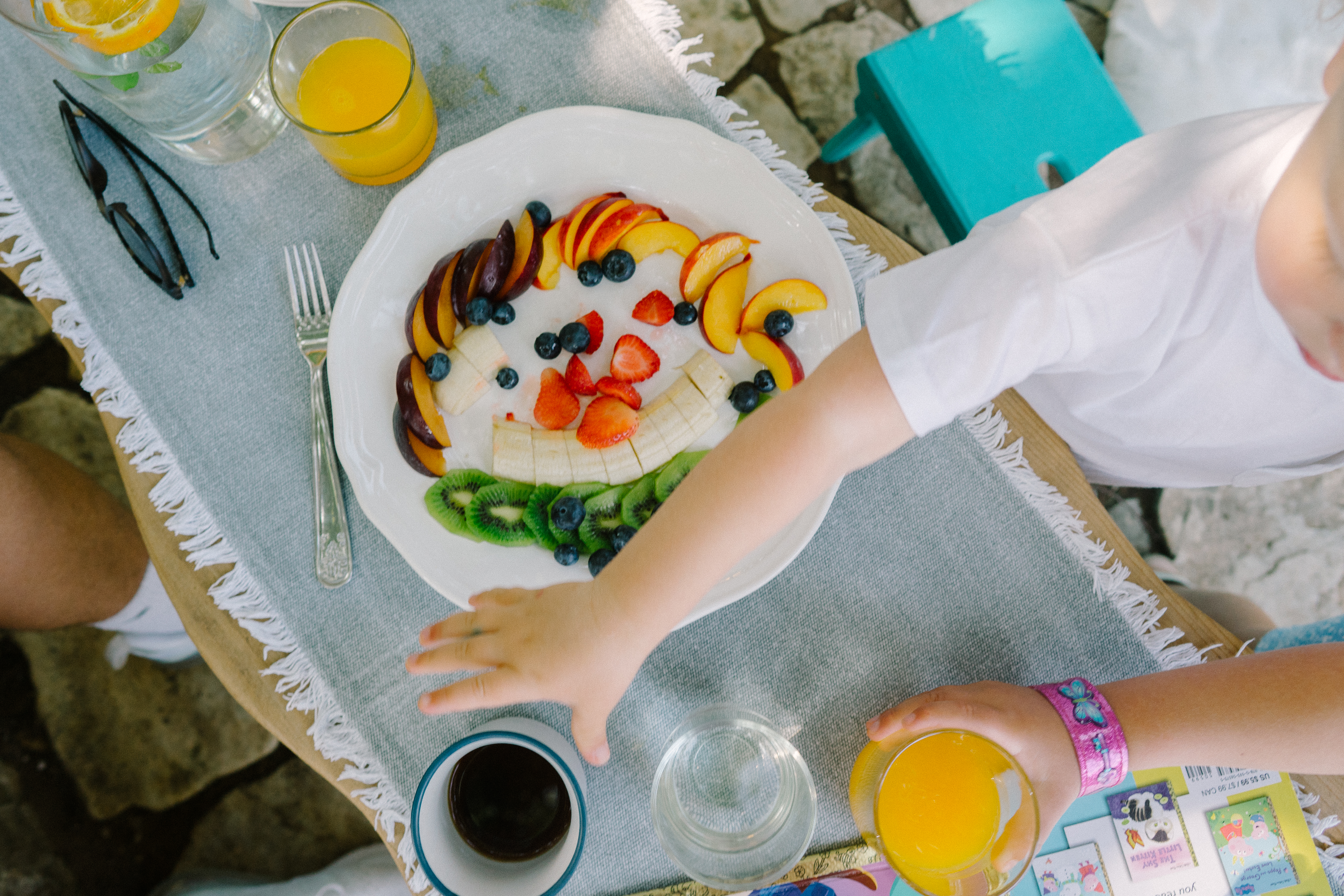 The hotel also has stand up paddle boards at the beach downstairs available to guests which Tyler was all over.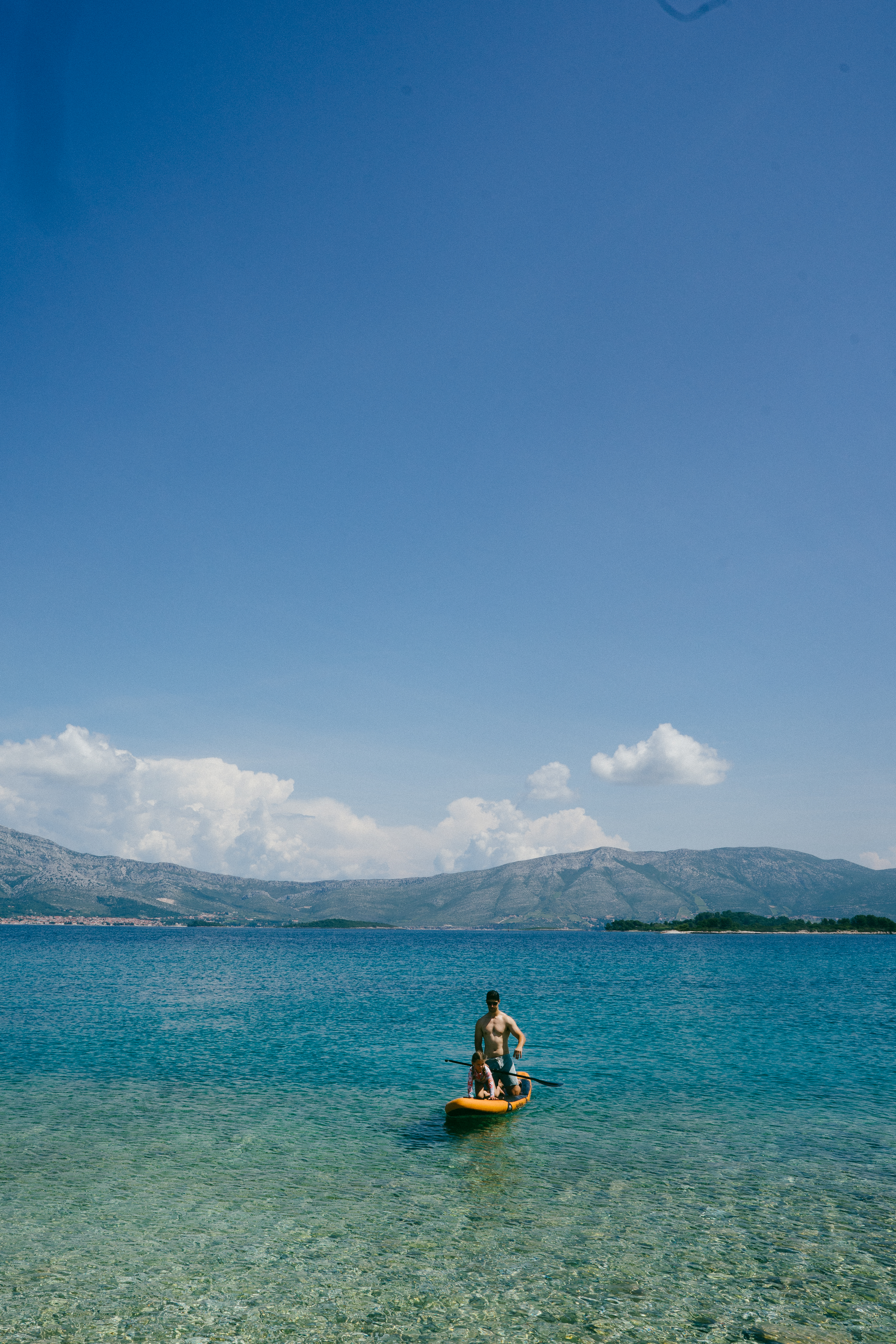 The Dreamers' Club is one of those properties that has a "best kept secret" type of vibe; we saw couples on romantic getaways, another family just like ours, and there was even a woman using the hotel as a retreat to write her book (you KNOW I was into that, lol!).
This place is so family friendly, and the girls were devastated to leave.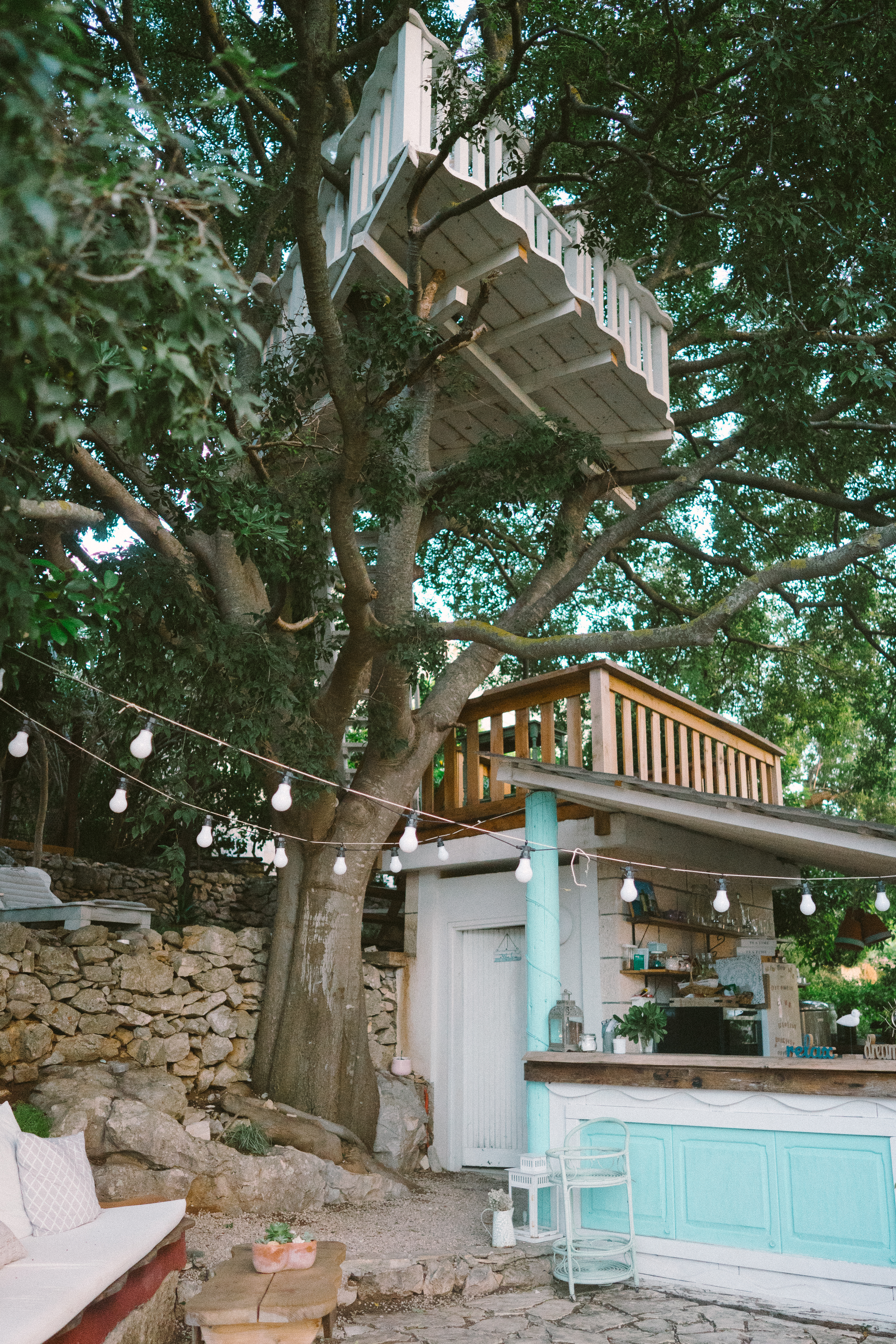 Things To Do In Korčula, Croatia
Drink the local wine:
One to-do became very clear to us in our research about Korčula: drink Grk, the famous local wine. Korčula is famous for its Grk wine varietal, and, in fact, Korčula is the only place in the world where you can find this wine! Tyler and I are on a White Wine Kick this summer, so this couldn't have come at a better time. The Grk was excellent–dry, refreshing, and perfect for sipping on the beach. They sell it at every restaurant, but if you really want to get the full experience, I recommend visiting a few of the wineries in the countryside. Bire, Popić, and Vitis are three of the best reviewed wineries outside of Lumbarda.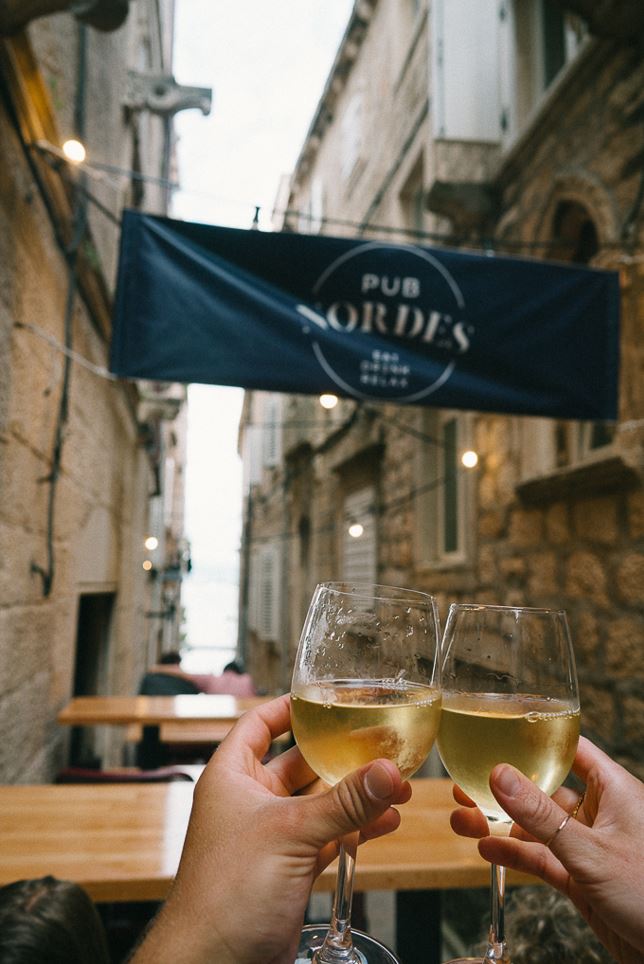 Explore Old Town:
We recommend spending an evening walking around Old Town. It's fun to walk around any time of the day, of course, but the evening and sunset are extra special because of the way the light hits the medieval buildings.
Start at the main entrance and make your way over to St. Mark's Square and Cathedral. Meander through the walkways and steps and finish up on the dock near the Aminess Hotel for a stunning sunset view.
If you're traveling with kids or are looking for a souvenir to bring back, check out Boya. These crayons are super unique and known around the world. Apparently King Charless bought a set when he visited Korčula! The girls love their set.
We ate at Pub Nordes for burgers (really good and the sweetest staff) and Pizzeria Tedeschi for pizza (this was our favorite meal on Korčula!)
And don't miss Massimo Bar–more on that below.
Get a drink on top of a fortress:
This was at the top of our list of things we wanted to do on Korčula. Massimo is a really unique bar that sits at the top of one of the medieval towers in Old Town (idk how they got that type of real estate, but I'm sure there's a great story behind it, lol). This bar is a little tricky to get to–guests have to climb up a ladder and through a semi-narrow opening, but-believe us–it's worth it for the views alone.
We had a feeling this place wasn't going to be kid-friendly, and, sure enough, we were turned away at the bottom with a simple head shake, lol. Tyler and I decided to take turns getting a drink at the bar: I let the girls play on the beach below the tower (they got a huge kick out of waving up at Tyler) while he had a glass of grk. And then he switched me–I made my way up for a moment alone with the view while he took the girls to get some ice cream.
Ride bikes through the vineyards:
We really wanted to ride bikes on the island but weren't able to find a place with a trailer for the girls, so we skipped it this time around. I would definitely recommend this to travelers without kids. What better way to get around an island? They also have all of these wine tasting bike tours that, to me, looked like such a blast.
We read that the tour led by Korčula Explorer is one of the best.
Watch the traditional Moreska dance:
Korčula is famous for their Moreska sword dance. This traditional dance originated from a drama performed on Korčula since the 12th century, and it is still performed on Thursday evenings at 9pm all throughout the summer in Old Town.
Spend an afternoon at La Banya beach club:
La Banya Beach Club is just a five minute drive past Korčula's Old Town. We spent an entire morning at La Banya one day and had so much fun. Tyler and I have been to a bunch of beach clubs around Europe, and most times they leave something to be desired (no shade, tiny, rickety chairs, expensive, etc, etc, etc).
La Banya had these huge, comfy beach loungers with massive umbrellas. The food and drinks were amazing (we got the cheese and fruit plate which was the stuff of daydreams). They also have this cute Instagrammable rope swing which I thought was a nice touch. The club also offers private cabanas that sit right over the water.

Tyler and I both said that our morning at La Banya was the most relaxed we could possibly be with our kids around. We HIGHLY recommend it.
Enjoy the sand at Vela Przina:
Many of the beaches on Korčula are rocky. This didn't seem to bother our girls, but if you're traveling with kiddos maybe pack a pair of water shoes!
Vela Przina is a beautiful beach just five minutes outside of Lumbarda. It is one of the few sandy beaches on the island. There is also a bar/restaurant and a nice bathroom which made this a great afternoon stop for us. We borrowed some sand toys from the hotel. I don't think the girls so much as looked at us for over an hour–they were in heaven.
Ride a water taxi:
The water taxis are a great way to get around and enjoy the water without paying a fortune for a private boat. We reserved a water taxi to take us to and from Old Town for dinner one evening, and this was one of my favorite memories of the trip. SInce our group was so small, we took one of these tiny boats–it cost 60 euro for the round trip for the whole family. At first I was a little freaked out, but it ended up being so much fun. The hotel connected us with a local driver who we could text directly to arrange pickup and dropoff.
Our views on the way back from dinner on the water taxi were so beautiful. I will never forget this night!
I hope you found this Korčula travel guide helpful. Please let me know if I've missed anything crucial if you've been. And if you are planning a trip to Korčula, have the best time and please, please report back!